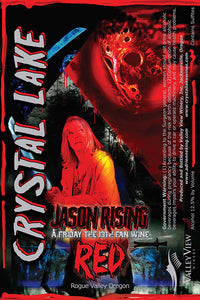 JASON RISING RED!

The rave reviews are in! This distinguished passionate Red wine is a huge hit with the audience! 
This ripe rich red is perfect for enjoyment now! Savor & serve with meat and pasta or with hard full flavored cheese.

Inspiration:
Following the fantastic  & continued success of Red Crow's Friday the 13th fan film JASON RISING, I decided to create a label, with my graphic designer, Christy, that honors all involved. 
The includes you, too! Our  family of supportive Campers with fine taste!
The process: 
It's all about passion, hard work, patience, nurturing, tenacity, creative juices and of course: Teamwork!
Just like the grapes grown and harvested for Crystal Lake Wines at EdenVale Winery
JASON RISING was made by for you, my Campers! Thanks for all the great reviews & still going strong with over 1K views on YouTube!